Avr схема включения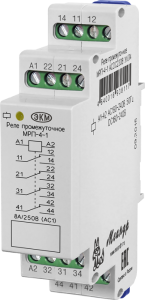 MRP-4-1 ACDC230V UHL4
1100.00 руб. с НДС
Are applied to amplification, galvanic decoupling and increasing the amount of contacts of used equipment
Indication of output status
4 groups of contacts on output
Built-in protection of switching element against inductive emissions arising from the opening of the relay
Width of the case is 22mm
PURPOSE OF THE RELAY
Intermediate relays (auxiliary) type of MRP-4-1 are designed for galvanic isolation between power circuits and circuits of control of remote activation load by applying a control voltage to the input of the relay, as well as for use as an intermediate relay.
DESIGN OF THE RELAY
Relay is produced in a plastic case with a unified front connection wires power and switched circuits. Mounting is carried out on a DIN rail width 35mm (GOST R IEC 60715-2003) or on a smooth surface. To set on a smooth surface, you need to push locks. Terminal design provides robust clamp wires up to 2,5mm2. On the front panel there is yellow indicator os status contact group and circuit connection.
OPERATION OF THE RELAY
Switching the relay is carried out by a supplying control voltage to the power contacts, with switch-on indicator lights on the front panel.
SPECIFICATION OF THE RELAY MRP-4-1
A parameter
Unit
MRP-4-1 ACDC12V
MRP-4-1 ACDC24V
MRP-4-1 ACDC48V
MRP-4-1 ACDC110V
MRP-4-1 ACDC230V
Supply voltage
V
ACDC12
ACDC24
ACDC48
ACDC110
ACDC230
Power consumption of the coil, not more
W
1,2
0,8
0,8
1,1
1,2
Time in switched on state
not limited
Time relay switching on, not more
ms
25
Time relay switching off, not more
ms
50
Quantity and type of contacts
4 switching groups
Maximum switching voltage
V
250
Maximum switching current: AC250V 50Hz (AC1)/DC30V (DC1)
А
8
Maximum switching power: АС250V 50Hz (АС1)/DC30V (DC1)
ВА/Вт
2000/240
Electrical strength (supply - contacts)
V
АС2000 (50Hz - 1min)
Mechanical endurance, not less
cycles
10х106
Electrical endurance, not less
cycles
100000
Maximum operating rate, not more
cycle/h
600
Operating temperature range (different versions)
0C
-25…+55 (UHL4)
-40…+55 (UHL2)
Storage temperature
0C
-40…+70
Immunity to interference from bursts in accordance with GOST R 51317.4.4-99 (IEC/EN 61000-4-4)
level 3 (2kV/5kHz)
Immunity to interference over voltage in accordance with GOST R 51317.4.5-99 (IEC/EN 61000-4-5)
level 3 (2kV A1-A2)
Climatic modification and placement category by GOST 15150-69 (non-condensing)
UHL4 or UHL2
The degree's protection at case/terminals according to by GOST 14254-96
IP40/IP20
The degree of pollution in accordance with GOST 9920-89
2
Relative humidity of air
%
up to 80 (at 250C)
Operating position in space
artbitrary
Mode
round the clock
Dimensions
mm
22х93х62
Weight
kg
0,06
CIRCUIT CONNECTION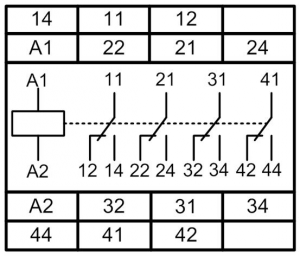 DIMENSIONS OF THE RELAY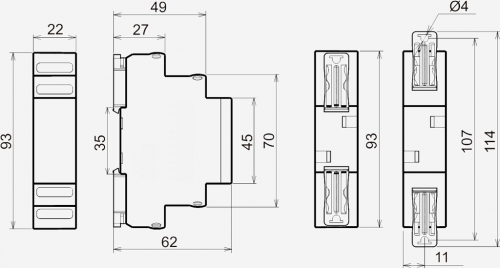 Title
Order code
File to download
(manual)
File date
MRP-4-1 ACDC12V UHL2
4640016938025
v01.07.2015
MRP-4-1 ACDC12V UHL4
4640016938032
MRP-4-1 ACDC24V UHL2
4640016938049
MRP-4-1 ACDC24V UHL4
4640016938056
MRP-4-1 ACDC48V UHL2
4640016938063
MRP-4-1 ACDC48V UHL4
4640016938070
MRP-4-1 ACDC110V UHL2
4640016938087
MRP-4-1 ACDC110V UHL4
4640016938094
MRP-4-1 ACDC230V UHL2
4640016938100
MRP-4-1 ACDC230V UHL4
4640016938117